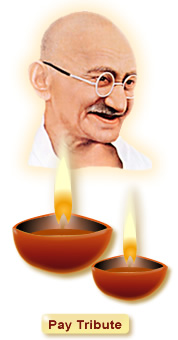 Gandhiji's Punyatithi
(January 30th)
We pay our respectful homage to The Father of our country. It is one more occasion to remem
ber his greatness and to commit ourselves to the eternal values which he lived. He became eternal because he lived his life by TRUTH, which is eternal in nature.
The Apostle of Peace is shot dead
is an interesting detailed narration of the activities of Gandhiji on the last day of his life. It reveals how much energy and enthusiasm he had, to serve his beloved country and its people. He had no official post either in the Government nor in the Congress, yet he was fully engaged in positive action for both. Even on that fateful day, he dictated notes for the draft Resolution of the Congress Constitution.
At the ripe age of
79 years,
he had the enthusiasm to quote an Urdu couplet and learn writing a few words of Bengali!! These incidences show the child-like qualities of the Mahatma. He was always with people, meeting them, consoling them, re-assuring them. He always had a unique place in the hearts of millions of people, and will continue to do so.
Nonviolence in the 21st Century: Challenges and Choices
is an article by Arun Gandhi, grandson of Gandhiji. It shows the practicability of applying non-violence in modern times.
Waging Peace
is an overview on the contribution of Gandhiji to India, in the words of a non-Indian writer Andrea Walker.
Finally, take this opportunity to Pay Tribute to Gandhiji and other leaders of India?s Freedom struggle. We at Vandemataram.com value your patriotism. Jai Bharat.